5 great ways to help conquer anxiety – part 4
by Paul Howard
In the previous articles I discussed how we use our internal processes to decide how things will turn out in a given situation; [link id='1439′] "The Guessing Machine".  I also discussed how you can make a "plan for success".  However, some people find planning for success to be problematical.  In particular the comment I hear over and over again is "When I'm creating a new positive plan for my future or a situation the old negative thoughts creep in".  This is where I would use "Lions and Teddy Bears".
Conquer anxiety using Lions and Teddy Bears
If you want to conquer anxiety, intrusive negative thought processes are not very useful especially when you are creating a plan for success.  In fact they can disrupt the whole process, and as such negate any benefits you get from planning for success, turning a plan for success into a plan for failure.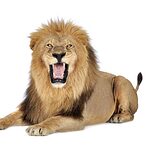 If you were walking down the street minding your own business and a lion was to jump out and run towards you how would you react?  The chances are good that you would instantly move into an anxiety state.  Your sub-conscious mind would recognize the presence of danger and would instigate a "fight or flight" response, making you want to run away or if you were really foolish, fight.  Compare this with a situation where you were walking along and came across a 6 foot teddy bear on the side of the road.  The chances are that you would not move into an anxiety state and would remain relaxed.
How to conquer anxiety using lions and teddies
Understanding how the anxiety mechanism works is crucial to being able to conquer anxiety effectively.  It is very important when creating a plan for success because if you allow metaphorical lions into your plan, the plan becomes useless.  So the trick is being able to understand what thought processes are metaphorical lions and reject them. Instead replace them with metaphorical teddy bears that are always thoughts that are cute and cuddly. What a great way to conquer anxiety simply by filling your thoughts with cute and cuddly ideas.