Practical skills training is an essential part of all the Surrey Institute of Clinical Hypnotherapy training courses. Hypnosis and hypnotherapy techniques are first demonstrated on a volunteer member of the class, and students then practice each hypnotherapy skill in small groups in order to gain practical experience.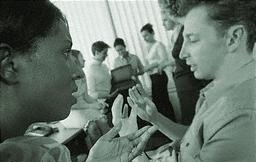 Practical hypnotherapy training is very important part of our courses. We feel that many courses focus too much on the academic aspect, we give you all the academic material in our 600 page manual for you to read but during the hypnotherapy training we focus on helping you to think like a therapist.
During the course you will see the lecturers working with real clients, dealing with real issues that present during the session. You will see how a seasoned hypnotherapist deals with what emerges in real-time in what can be exciting and at the same time educational. It gives you a real feeling for how hypnotherapy works in practise and the kind of things you will need to deal with when you become a hypnotherapist.
The mission of our hypnotherapy training courses at The Surrey Institute is to educate, not train, students to be practitioners of hypnotherapy. So our hypnotherapy training courses educate you to deal safely, confidently and effectively with the enormous variety of presenting symptoms; physical, emotional or psychological – for which their clients will seek help.
We believe that really good hypnotherapy training courses are not just about giving you a lot of techniques. We feel it is really important to demonstrate the techniques, show how and when they would be applied and for you to understand why the particular technique is appropriate for the given problem. It is far more important to understand what you are trying to achieve with the client then you can decide what technique you are going to use.
Our hypnotherapy training courses
At The Surrey Institute we run three main hypnotherapy training courses.
These are :-
Introduction to Hypnosis – This is a 2 day course and gives you a good understanding of Hypnosis.
Hypnotherapy Practitioner Diploma (HPD) – This is a 4 week hypnotherapy training course that is the highest form of Hypnotherapy vocational training in the UK. This course is accepted by all the major hypnotherapy professional bodies.
The Ultimate Hypnotherapy Marketing – This is a one week course covering the many facets of marketing your hypnotherapy practice, to help you to achieve the success you desire.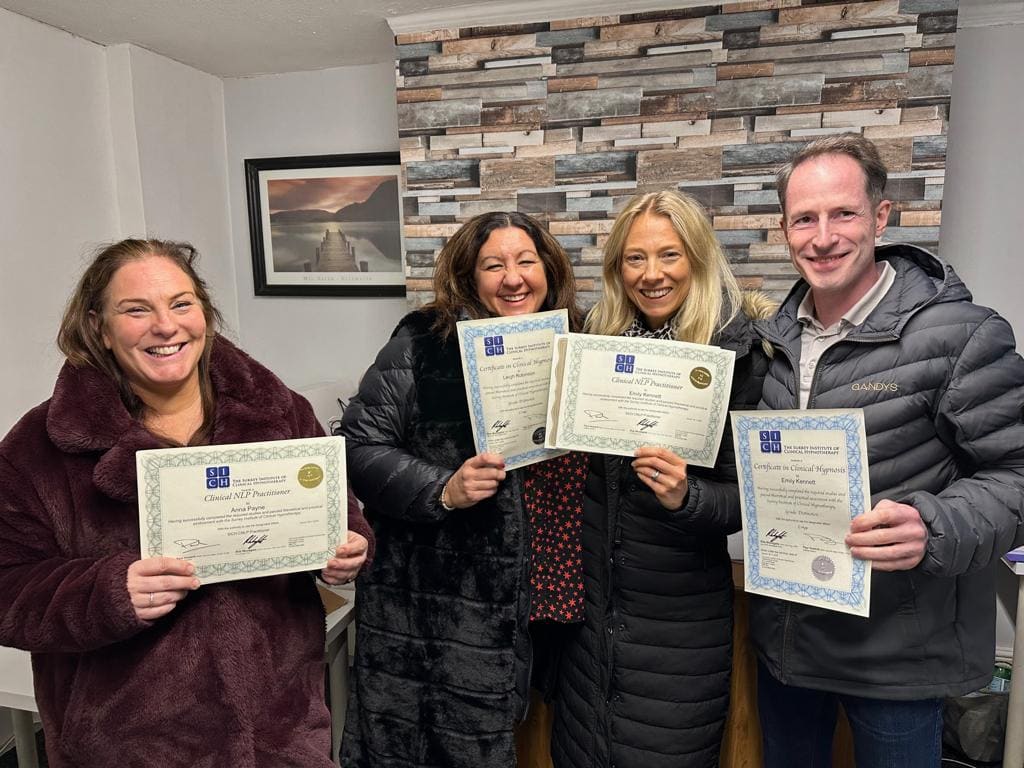 Being a good hypnotherapist takes great hypnotherapy training but most important is a passion for the work. If you don't have that passion for the work it does not matter how much hypnotherapy training you have you will never be a great hypnotherapist. So if you want to come on our hypnotherapy training course make sure you have that passion, as we train hypnotherapists to succeed not to fail.
FAQ – common questions and answers
Will the course equip me to practice as a hypnotherapist?
Yes, the SICH diploma gives you everything you need to immediately start your career in hypnotherapy. This includes skills, knowledge, confidence, protocols, scripts and everything else you require to bring in your clients, assess their problems and then begin the correct course of treatment.
Do I learn theoretical and practical skills?
Yes. Whilst some hypnotherapy courses from other providers focus on theories alone, the SICH diploma gives you the knowledge and also hands-on practice with clients under strict supervision, so you get a chance to actually induce someone into hypnosis and provide a successful session of treatment during the course.
How much support do the course tutors offer?
Two tutors will always be on hand to conduct the course and provide all of the help and support you need. At the end of the course, you will also be invited to become a member of the Surrey Institute of Clinical Hypnotherapy to receive on-going support and assistance from our team when starting off on your own career path.
What are the qualifications of the course tutors?
All our tutors are fully qualified (details at www.sich.co.uk) with years of experience in treating their own clients and also providing expert tuition to a great number of SICH students.
Does the course adhere to the National Occupational Standards?
Yes, SICH courses adhere to the National Occupational Standards, and is accepted by the major hypnotherapy professional bodies.
Are the course tutors actively practising as hypnotherapists?
All our tutors see clients in London, Kent and Surrey, and some are completing up to 1,500 client hours per year. This means that you get taught by hypnotherapy experts who have experience of treating many clients with varied problems whilst growing their own highly successful practices.
Do you demonstrate techniques?
Yes, course tutors will demonstrate most of the techniques you will learn.
The CNHC insists that hypnotherapy courses train to minimum standards of 120 hours of face-to-face study time and 450 hours of total study time. Does the SICH course meet these criteria?
Yes, the SICH meets and even exceeds these criteria. The Full HPD course modules 1 to 4 offers 160 hours of face-to-face training in small groups with a complete study time of 450 hours.
Can I see the full syllabus before the course begins?
The course syllabus is outlined in our prospectus. You will also receive a 600 page course-training manual which outlines all of the techniques and procedures in the course.
Does the course include business and practice management?
SICH trains you to become a professional hypnotherapist and also gives you the knowledge to start your own thriving practice. Both main tutors have extensive experience in operating their own successful hypnotherapy businesses and will share many vital industry tricks which help you attract in more clients and earn the highest possible income. The optional module 5 also delves into more knowledge when it comes to successfully marketing your new hypnotherapy services.
What is the tutor/student ratio? Will I receive enough personal attention?
SICH is for budding hypnotherapists who want the highest calibre of tuition, which is why our class sizes are usually limited to only 12 students with two main tutors – providing a close-knit tutor/student ratio of 1 to 6. This gives you plenty of personal attention so the tutors can take you through the course at your own pace and answer any questions you have.
For actual dates of the modules and current availability please call our head office on 0800 849 7001.
Hypnotherapy training courses – dates and availability see below.
Course: Marketing Module
Date: 11th December 2023
Location: London/Surrey
Spaces: 6 Places
Price: £650
Course: Introduction
Date: 11th March 2024
Location: London/Surrey
Spaces: 2 Places
Price: £100
Course: Diploma - Intensive
Date: 11th March 2024
Location: London/Surrey
Spaces: 8 Places
Price: £3200
Course: Marketing Module
Date: 17th June 2024
Location: London/Surrey
Spaces: 6 Places
Price: £650