A recent report shows the demand for complementary and alternative medicine market is expected to grow by 25.1%. from 2023-2030.
Hypnotherapy is a complementary medicine that has been shown to induce positive changes in behaviour and treat various conditions. If you have a passion for helping people improve their lives, this might be a good career choice for you.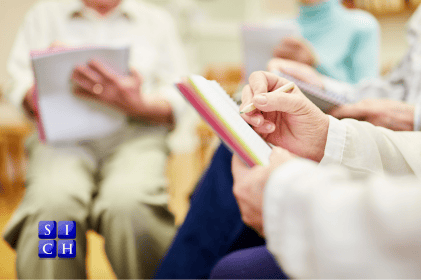 If you are wondering how to become a hypnotherapist, there are a lot of training courses available.
In the UK, the CNHC insists that hypnotherapy courses train to minimum standards of 120 hours of face-to-face study time and 450 hours of total study time.
That being said, it's important to know how to find a credible source that meets or even exceeds these criteria like The Surrey Institute of Clinical Hypnotherapy.
If you want to know more information on how to become a hypnotherapist, here's what you need to know.
What qualifications do I require to become a hypnotherapist?
Most practising hypnotherapists have a Diploma in Hypnotherapy as a minimum.
At The Surrey Institute of Clinical Hypnotherapy, we offer a certificate and diploma as a certified clinical hypnotherapist as well as a certificate in clinical NLP.
Our clinical hypnotherapy and NLP diploma teach you everything you need to know to become a professional hypnotherapist and neuro-linguistic programming (NLP) specialist.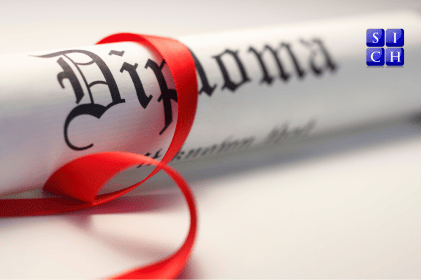 You are given the skills, scripts, interview forms, protocols and everything you need to start treating your own clients and helping them to solve clinical issues like anxiety, weight loss, psoriasis, reactive depression, addictions, problem behaviours, and more.
Our process of awarding certificates and diplomas will be based on continual assessment and observations of your practical exercises. Upon training completion, you will receive a diploma and certificates which are recognised by the majority of professional hypnotherapy bodies. This enables you to become a member of many professional hypnotherapy associations.
These various certificates and diplomas will allow you to use the letters HPD and CNLP after your name.
What's the difference between hypnosis and hypnotherapy?
Hypnosis and hypnotherapy are two different things.
Hypnosis is a trance-like mental state that every one of us can enter many times a day, on a regular basis. One common example of a trance state is being absorbed in watching a movie and not getting distracted by any sound outside the room or even when someone is talking near you.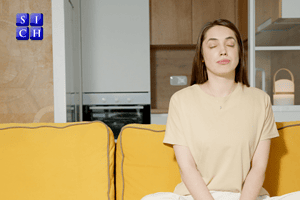 Hypnotherapy is a therapeutic modality that utilises hypnosis to manage or treat various conditions such as anxiety, addiction, phobias, and more. This is a state of heightened suggestibility which means that the hypnotherapist can deliver positive suggestions by applying various techniques.
Simply put, hypnotherapy is the clinical application of hypnosis.
Our course includes additional discussions and explanations of these terms to help you have a clearer and better understanding of this topic.
How Much Does A Hypnotherapist Make a Year?
The majority of hypnotherapists are self-employed, so rates are basically set by you. Because they charge by the session, the number of hours you spend providing treatment to clients will determine how much money you make.
The hourly rate a hypnotherapist can make is roughly £80 to £120, but this is a gross amount before expenses such as advertising and running a clinic. Most hypnotherapists take home around £25 per hour.
On average, the amount of salary a full-time hypnotherapist can make annually is around £48,174.
Leaving salary behind for a moment, being a hypnotherapist can be a rewarding, exciting, and fulfilling career!
Who provides hypnotherapy courses in the UK?
There are hundreds of schools in the UK that offer hypnotherapy courses, and they range from small one-man bands to large organisations with big class sizes offering relatively superficial training.
When choosing a hypnotherapy school to learn hypnotherapy, it is necessary to have a balance of trainers who actually have the experience and who work in the industry plus having class sizes that are kept small so you can receive the proper training you need. It is also essential to consider a school having a good combination of training styles and techniques.
At the Surrey Institute of Clinical Hypnotherapy, we provide expert training courses which give people the skills to become highly skilled professional hypnotherapists. Not only that, but we will also train you how to become a highly successful one.
Key skills of a great hypnotherapist
To be a great and effective hypnotherapist, having the ability to listen is a very important skill to possess. Showing interest and concern for another person can be done through attentive listening. This may help them open up to you and feel more at ease.
This skill is followed closely by an inquisitive mind. Having a curious mind can actually lead to discovering the root causes of the problem and being open to new information.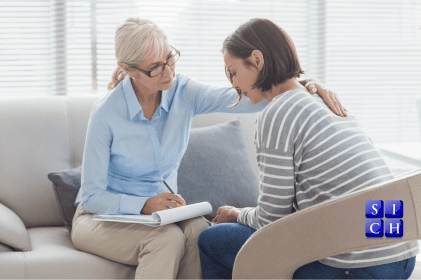 Putting aside these abilities for a second, though, what matters the most is your passion for this field.
"Is hypnotherapy actually a viable career option?"
Hypnotherapy can be a viable career option for those individuals who are interested in taking this as a profession.
In fact, governments and society are shifting their focus away from relying solely on medication to treat mental health issues. Because of this, it has resulted in a recent and ongoing rapid increase in the potential market for hypnotherapy treatment. And this is expected to continue in the foreseeable future.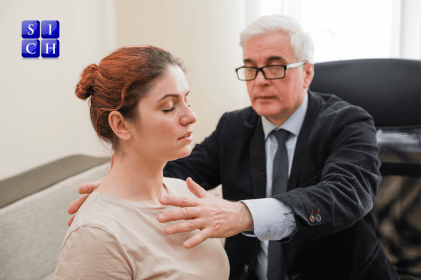 For instance, The Surrey Institute of Clinical Hypnotherapy has four hypnotherapists seeing clients throughout the week. We can see that there's a demand for hypnotherapy services and the potential for a sustainable client base.
In addition to this, the senior partner at SICH has been practising full-time since 2003. This only shows that with hypnotherapy, it is possible to achieve career longevity and stability.
What does hypnotherapy training involve?
As much as classroom training is important, applying what you learn (in-person practical training) also plays a crucial role in becoming a highly skilled and qualified hypnotherapist.
To give you a gist of what you can learn inside The Surrey Institute of Clinical Hypnotherapy, our hypnotherapy training involves a lot of practical exercises with very little theory and absolutely NO essays.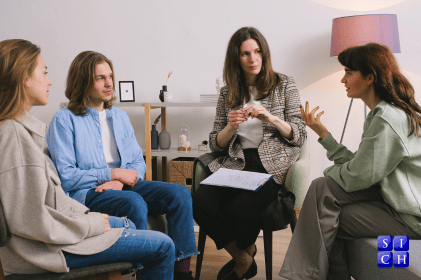 Specifically, our hypnotherapy course is an intensive 4-week course, giving you 20 days of classes which take you through all of the modules you need to become a professional hypnotherapist.
Your tutors take you through each module, show demonstrations and even allow you to treat clients as practice under strict supervision. This gives you a chance to actually induce someone into hypnosis and provide a successful session of treatment during the course.
How long does it take to become a qualified hypnotherapist?
You don't have to spend several years to become a certified hypnotherapist. In fact, with our intensive course, you only have to complete 20 days of training which is usually spread over 3 months to become one.
What's even better with our course is it offers ongoing supervision for the following 2 years normally.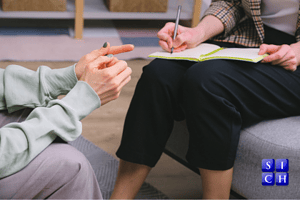 As soon as you finish the training and gain certification, you can definitely start working with clients right away while still receiving guidance from us, usually throughout the first 2 years of your hypnotherapy career.
Where can I train and study to become a hypnotist?
Look no further! The Surrey Institute of Clinical Therapy (SICH) is a leading school of excellence in hypnotherapy training.
SICH has multiple clinics in Surrey and London where it treats its own clients and also provides expert training courses which give people the skills to become professional hypnotherapists.
Here are the more reason why choose our school:
1) An established institute with a proven track record
SICH has been established for over 20 years with a head office in Surrey and clinics in Wallington, Camberley and the world-famous Harley Street in London. This means that you will join a vast number of other students who have successfully studied for their hypnotherapy diplomas in professional learning environments.
2) Receive a formally recognised qualification
The diploma is recognised by the major professional hypnotherapy bodies. This enables you to apply for membership in those associations.
3) Simple, easy to understand and tailored to you
The course is adapted to your skills and learning abilities, with the training broken up into simple modules which are easy to understand and learn. Despite such easy learning, the course is still highly comprehensive.
4) Focus on the most common problems for a successful career
Whilst the diploma covers everything to do with hypnotherapy and NLP, we focus primarily on the most common issues which you're going to deal with most of the time as a hypnotherapy practitioner. This includes weight issues, smoking, anxiety problems, drug problems, gambling and more. With this approach, you get better skills in the type of treatments which are going to provide the majority of your income throughout your career.
5) Giving you everything you need to start your career immediately
SICH will give you all of the scripts, interview forms, protocols and skills you need to immediately start practising as a hypnotherapist at the end of your course, so you can start your new career as soon as it's complete.
6) Giving you knowledge, skills and confidence
The course doesn't just provide the knowledge, but also the practice to perfect your skills and gain the confidence to deliver first-class hypnotherapy treatments in an assured manner.
7) Learn from the experience of expert tutors who have treated their own clients
Our main tutors complete around 1500 client hours per year and therefore have considerable experience in providing the highest quality tuition to help you learn more skills in a shorter time frame. Plus, as the tutors have managed their own successful hypnotherapy practices, you can also learn the most effective professional approach to secure a thriving practice.
8) Learn hypnotherapy skills and business management skills
SICH strives to help you become a successful hypnotherapist. That's why we include information about business management which helps you to attract more clients and become more successful.
9) Practice with real clients
You will have the opportunity to work with real clients under supervision, so you can gain first-hand practice in client interviews, pre-induction talks and conducting hypnotherapy with the client.
10) Receive close personal attention
SICH is for those who want the highest quality learning, which is why we limit classes to 10 students with 4 tutors to make sure that you receive the most personal attention possible during the course.
Find the right hypnotherapy training course
There are numerous hypnotherapy training courses available to equip you with the proper knowledge and practical experience necessary for you to be able to start a successful career in hypnotherapy.
Finding a credible and accredited organisation where you can get a recognised qualification is the first step towards finding the right hypnotherapy training course.
And here at SICH, our diploma course is designed to meet The National Occupational Standard learning outcomes as set out by Skills for Health, a government-sponsored organisation.
Enrolling in our course will give you the opportunity to be taught by some of the UK's leading hypnotherapists who have trained under world-renowned specialists such as Gil Boyne and Paul McKenna.
You will be trained, supported, and guided by Rob Woodgate and Paul Howard, the two main tutors for your course, who have both operated thriving hypnotherapy clinics and also held top-level boardroom positions within the National Council for Hypnotherapy. Between them, they have trained hundreds of hypnotherapists, so they can confidently show you how to become a hypnotherapist
For more information, see our prospectus.
Interested in taking our hypnotherapy training course? Reach out today and let us help you become a highly skilled and successful hypnotherapist.
We can't wait to see you thrive in your hypnotherapy career!