by Paul Howard
In part 2 we discussed "The Guessing Machine" and the reason why some people take a lot more notice of their internal self-talk, which can lead to higher levels of anxiety. So, how then can we differentiate between appropriate negative self-talk and in-appropriate negative self-talk? What we have to do is establish when negative self-talk is appropriate in the first place.
We use our internal self-talk to reason, question and to keep us safe. If we have a problem to reason out we will use our self-talk to work out the pro's and con's so both positive and negative points of view are appropriate. We also use self-talk to answer questions about our surroundings and how we should handle particular situations by using the "what if" construct. We will ask ourselves "what will happen if I do x" or "what will happen if y happens". So again both negative and positive thought processes are useful. Finally we use self-talk to protect us and keep us safe. We do this not only by what we say in our head, but also how we say it; i.e. tonality, volume, inflection and so on. We can change the meaning and the importance of what we say in lots of different ways. Of course there are many other different types of self-talk. Obviously, if we use predominantly one, either positive or negative type of self-talk, then we will not be able to make quality decisions.
You may not think that what you say to yourself is that important. However in my experience it is critical to develop more rational and reasoned thought processes when treating anxiety. My clients often say to me "If only I could stop these negative thoughts then I could…..". In the main they have self-talk that is what I call doom ladened in content and tonality. For instance the client might say something like "If I get in the lift I might have a panic attack and be unable to breathe" or "What if the lift gets stuck and I run out of air", both of which would be said in a tone of voice that you might expect from Vincent Price in a horror movie. If you think about how the subconscious interprets that sort of self-talk you can easily understand how it could perceive danger in the situation and take steps to avoid the situation by generating anxiety.
So what steps can you take to mitigate this strategy and differentiate whether it is appropriate or not? It is for just this purpose that I developed some cognitive techniques to help the client to differentiate.
3) The 6 Year Old Rule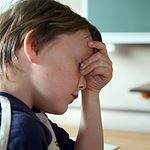 One of the main techniques I use is my 6 year old rule. I will ask the client if they know any small children between the ages of 6 and 9. It might be their own children or maybe a relative or I might ask them to remember their own children at that age if they have grown up. I will then ask them to imagine saying the same thing to that child in the same tone of voice i.e. "If you get in the lift it might get stuck and you might run out of air". In the main most clients would say "I wouldn't say that to a child". I will then say "why not?". They will say "well it would scare them!". I will then say "So you wouldn't say it to them but you are more than happy to say it to you many of times a day". You get the point. This allows the client to make an informed decision on whether the self-talk is appropriate or not. So if you would not say it to the child you are not allowed to say it to yourself.
Part 4 – Lions and teddy bears
All the articles on this site are subject to UK copyright law. If you wish to use these articles in any other content you must respect this copyright and leave links back to this website intact.