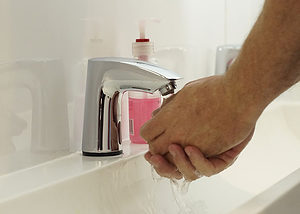 While some level of "perfectionism" is common to almost all of us, in the main it doesn't adversely affect our lives the way OCD can. Around 2% of the population suffer with obsessive compulsive disorder, or OCD, and it is classified as one of the anxiety related disorders. However very few people actually treat OCD seriously as many people see it as a joke condition.
Checking house appliances, ensuring doors and windows are locked multiple times, until they are secure in their minds that it is done, this behaviour is really common place for the obsessive compulsive disorder sufferer. A lot of people may find that they have to check a cooker, iron or indoor light 5-20 times before they will relax.
Obsessive compulsive disorder isn't limited to just kitchen appliances.  It could be stroking a rabbit's foot, checking themselves for moles, cleaning light switches with bleach, cleaning the toilet, and anything that can be done ritually in response to whatever their anxiety trigger is.
Differentiating Obsessions from Compulsions
Compulsive behaviour is a purposeful action that is performed repeatedly. The behaviour will generally be prompted by obsessive thoughts that generate high degrees of anxiety and the behaviour is started in an effort to reduce the anxiety. An obsessive compulsive disorder sufferer can comprehend that their ideas and behaviours are not rational.
For example, the person may be experiencing obsessive feelings about the safety of a family member and the anxiety and worry starts to increase in their mind. Even though the family member is utterly safe, the feelings of doom and destruction just will not subside. Suddenly, they may come up with a solution that helps them to feel as though they are doing something to stop the outcome (it might be having a nice thought). When they learn that the member of the family is ok, they start to convince themselves that it's as a result of their actions.
The compulsive behaviour only provides a small measure of relief from the overwhelming anxiousness that the obsessive ideas have induced. Though the behaviour provides a degree of anxiety relief, it is simply partial. Most obsessive compulsive disorder sufferers become trapped in a downward spiral of panic and worry. The mere thought of stopping the obsessive compulsive disorder behaviours can result in high degrees of panic.
Categories of Obsessive Compulsive Disorder
Organiser – Someone who likes symmetry and order in their life. Washer – concentrates on cleanliness. These individuals sometimes fear germs and potential contamination.
Doubter – think disaster will probably occur if they don't do specific tasks in a particular way.
Catastrophiser – They tend to predict disasters that can only be avoided by the repetition of specific steps or rituals.
Squirrel – This person will hold onto everything in case it's necessary later. As an example, they may fear that throwing away a special item may lead to tragedy.
Treat OCD with Hypnotherapy
Hypnotherapy is a great way to treat OCD by collapsing any underlying anxiety and elevating feelings of contentment. An experienced hypnotherapist would, as a rule, assist their client to deal with the obsessive thoughts and remove the urges to complete the obsessive action. As well as reducing panic, hypnotherapy may help to stop the obsessive beliefs which are at the source of the anxiety.
Hypnotherapy is also an effective way to tackle the extreme anxiety and panic that is always present when we treat OCD, and conquering the extremely high levels of tension and anxiety is a key to helping these individuals let go of their obsessive feelings and behaviours so they can regain control over their lives.
Paul Howard, from The Surrey Institute of Clinical Hypnotherapy, based in Surrey, said, "Obsessive compulsive disorder can be treated when you get access to the subconscious beliefs the way hypnotherapy specialist techniques do. The trick is to then change those beliefs in a way that helps the client to create rituals and habits that lead to a positive out come rather than the existing ones that usually end up in negative outcomes. This is just one of the methods we use top treat OCD"