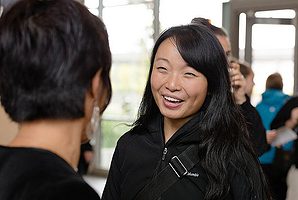 Putting yourself out on the dating market can often be difficult, especially if you have been out of it for a while. Within this blog post we look at a new way to increase your confidence when dating and attend to any underlying problems that could be damaging that confidence and hence stopping you enjoying yourself.
Do you truly feel that you lack confidence when dating? Are you still carrying the baggage of earlier relationships? Or maybe you're one of the many who have found themselves exiting a long relationship into a new era of cyber dating, and you don't know where to start.
Whatever your situation, your success in relation to dating will depend on your levels of self-worth and self-confidence, so it's essential to tackle these before getting started.
Some people find it tough to accept a new dating opportunity when it arises because of a lack of confidence or maybe they haven't moved on from the earlier break-up. A large number of people actually become anxious at just the idea of dating because they're terrified that their date won't like the real them.
If this describes you, the initial thing you need to do is seek some help.
If you'd like help to overcome your anxiety or perhaps to develop your confidence, hypnotherapy will help.
How hypnotherapy could help with confidence when dating
By making use of hypnotherapy techniques, you can safely and quickly re-evaluate negative self beliefs and patterns that have reduced your confidence when dating. With hypnotherapy you will probably be able to become ready to accept love, friendships and relationships through a process of reflecting on what has occurred in your life to damage that confidence when dating, and changing the beliefs that have been created in the past in order to make real changes.
With hypnotherapy, you can:
Re-assess past traumatic experiences and see them in a new, favourable light
Be more at ease in the company of others, even when they are not well known to you
Have faith in yourself and learn to trust that you can, and will, have a successful relationship sooner or later
Nobody can bring love to you, but you can be open to finding love, when you've got all the tools required to be open to finding it to start with. By utilising hypnotherapy tactics, you can find new ways to be open and receptive to relationship chances which should give you the ability to build a good relationship in the years ahead.
Paul Howard, from The Surrey Institute of Clinical Hypnotherapy, based in Surrey, explained why they believe hypnotherapy can be a very useful aid in enhancing confidence around dating,
"Once we have established the cause of the lack of confidence when dating, it is very easy to adjust the thinking processes clients have about themselves. Taking the client from a state where they believe that they are not good enough, to a state where they feel calm and ready to open themselves up emotionally, "knowing" that they have the strength to handle the emotional roller coaster that is the dating scene."
---

First, I want to inspire you about Amanda and how she worked through her anxiety and the things she learned that helped her.
Then, I would like to send you regular emails to help you to start taking control and give you a chance to think and feel differently about anxiety. I want you to know upfront that I will send you a few emails every week.
Complete this form and I will tell you about Amanda.
Anxiety Tips and Tricks Emails
Sign up and get FREE entry for our prize draw for 4 standard hypnotherapy sessions