Rebecca's weight loss story
Rebecca's story of using hypnotherapy for weight loss started 16 months ago. However, her weight loss story is a battle that had been going on since she was 15 years old. Rebecca, now 34, was at an all-time low after tipping the scales at over 14 stone.
Rebecca, a fast food fan who struggled to squeeze into a size 14 dress, had tried every diet plan she could find, including weight watchers several times, slimming world and Atkins. As a last resort, she decided to try hypnotherapy for weight loss as she thought that she had nothing to lose.
However, as it turned out she had plenty to lose! Over five stone in fact! And dropping three dress sizes to a size 8!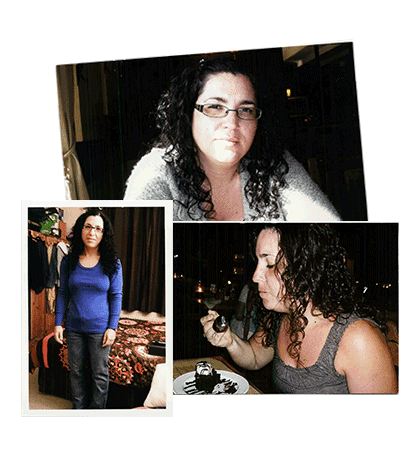 Her final trigger
I felt hopeless, I just couldn't stop eating, and the more I ate, the more miserable I felt so the more I ate. I knew I just had to do something
Rebecca, from Sutton, Surrey said: 'I was an avid Chinese takeaway eater ordering 3-4 dishes just for myself. That or large portions of fish and chips. I felt like I was eating for two yet I was only one. Hypnotherapy was my last resort. I knew I had to do something about the way I felt around food. I was so fed up with my weight loss efforts and yo-yo dieting.
And after yet another New Year's resolution had fallen by the wayside she decided to call the Surrey Institute of Clinical Hypnotherapy and booked in with one of their weight specialists and that was the start of her weight loss story.
Why she chose hypnotherapy to lose weight
She recognised that the diet plans worked but only when she was motivated, and she just did not have the willpower to stay motivated. She found that hypnotherapy changed her behaviours around food which in a way made the need for motivation less. This made her weight loss story easier to have a successful outcome.
She found it much easier to eat properly and appropriately; something she had always struggled with in the past.
'When the weight started to drop off me it started to lift my mood, and as it did I started to feel more confident and comfortable within myself'

Becky
She no longer had to spend her day thinking about food. In the past, if she ran out of biscuits, she would go out especially to get more. Chocolate was another one of her downfalls and something she thought she couldn't live without.
When she started the weight loss programme her target weight was 10 stone; so she exceeded that by a stone! She had a BMI of 33.6, just below being morbidly obese and now is right in the middle of the normal range.
Now some 16 months later she has kept to her new weight and finds it easy to do so. She had some stressful times recently and she went back for a couple of support sessions to ensure that the stress did not make her slip back into old patterns of eating behaviour.
Becky's weight loss motivation to lose weight
'I realised the only way to stop all this was to radically change my life.'
'I felt like I was eating for two, yet I was only one.'
Becky's first consultation
Becky was initially drawn to hypnotherapy as she had read some reports in the press regarding the 'Hypnotic Gastric Band' – further to her consultation with Paul White, the behavioural change specialist at the Surrey Institute of Clinical Hypnotherapy; she decided that the hypnotic gastric band was not the appropriate way forward.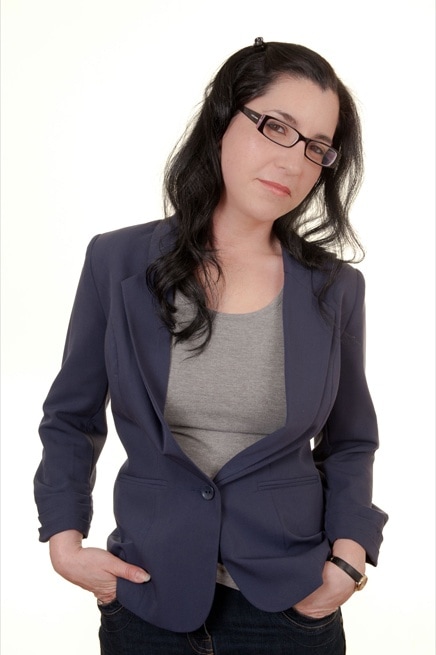 "Becky had got to that all too familiar stage in her weight gain by stopping weighing herself for fear of the confirmation of her worst nightmare, continuing to pile on the pounds. She had developed very negative patterns of thought and behaviour, blocking out potential negative outcomes of her weight problems and bingeing on crumpets and cheese and double portions of Chinese takeaways."

Paul White
The ways hypnotherapy helped her weight loss story
Hypnotherapy helped me to change my behaviours around food
For me, it just stopped the cravings that I'd had in the past
It helped me to start enjoying healthy food
It focused my mind to start planning ahead
'When I came out of that first session I just felt completely different and every session after that built on that change'
As the weeks went by it got easier. I became more and more motivated as the weight started falling off me.

Becky
Many people think hypnotherapy is a quick fix to losing weight, but for me, my weight loss story was about totally changing my behaviours. I knew when I had finished I would never go back to the lifestyle I'd had before.'
*Her weight had dropped to 9 stone meaning she had lost an incredible 70 lbs in just 8 months, which, when you think about it, is only just over 2 lb a week on average. Which is a long-term sustainable target for most of our clients.
These fantastic results have been achieved by simply changing patterns of behaviour around food. All the behavioural changes are sustainable over the long term as Becky's weight loss story proves only too well. It is also important to note that these results were achieved without an exercise regime of any sort.