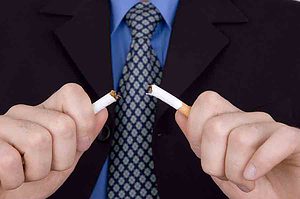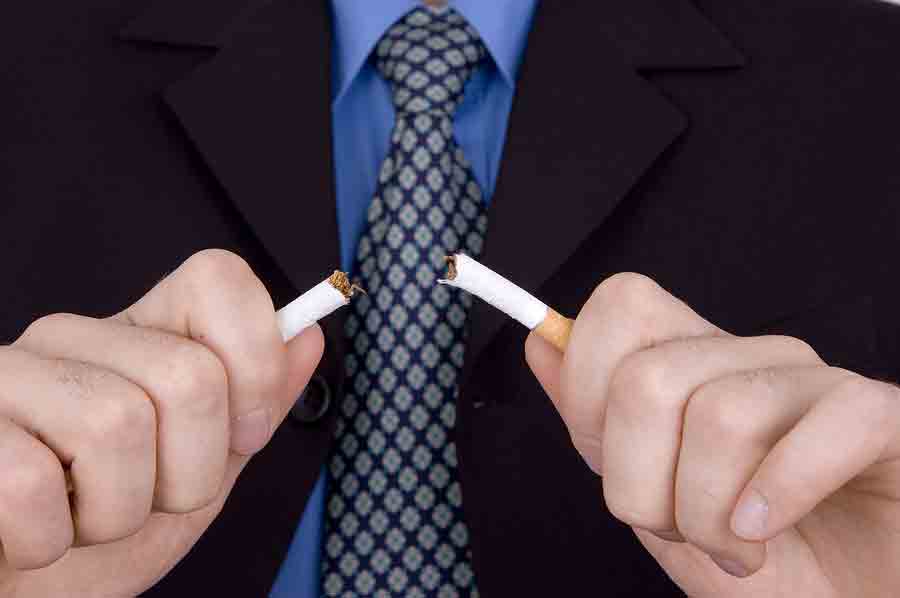 Smokers who successfully quit feel less anxious afterwards – despite the belief that smoking relieves stress, researchers say.
The British Journal of Psychiatry study followed nearly 500 smokers attending NHS hypnotherapy for Stop Smoking clinics in England.
It found a "significant" decrease in anxiety levels among the 68 smokers who had quit after six months.
The effect was greater among those who had mood and anxiety disorders than those that smoked for pleasure.
The researchers – drawn from several universities including Cambridge, Oxford and Kings's College in London – said the findings should be used to reassure smokers attempting to quit that concerns about increased anxiety levels were unfounded.
The researchers said it seemed that smokers – particularly those that smoked to cope – were more likely to have a cigarette soon after waking up to stave off withdrawal symptoms, which include anxiety.
By quitting, they removed these repeated episodes of anxiety and felt less anxious as a result, they added.
The most significant thing in this study is that only 68 out of 500 people manage to stop smoking using the NHS stop smoking clinics. This equates to a pitiful 13% success rate after just six months. Where as, in general we tend to achieve around 70 – 80% success rate, based on clients that stop for over a year, using hypnotherapy.
The fact that anxiety feelings drop is no real surprise because although smokers believe that smoking relaxes them in fact the opposite is true. Smoking actually stresses the body.
Using hypnotherapy allows you to feel more relaxed and not really bother to think about smoking as smoking for you is a thing of the past.
It comes as the government has launched a graphic anti-smoking advertising campaign, which features a cigarette with a tumour growing from it, and as many smokers prepare to quit as part of their new year resolutions.
Most smokers tend to try hypnotherapy last. This is because we don't have the advertising budget of the drug companies but in fact research shows that you are around 5 times more likely to stop with hypnotherapy than by using nicotine gum and the like.
So if you are thinking of getting rid of smoking and breaking that habit why not break a trend whilst your at it and try hypnotherapy first and succeed the first time.
---
4.9 out of 5 stars (58 ratings)
---
Verified Client

A success and highly recommend

  

Russ

 on February 15, 2018 at 15:11:48

I visited the clinic for hypnotherapy to stop smoking. I saw Suzi Miller who I thought was absolutely fantastic. I was sceptical at first but her joyous manner relaxed me and I was hypnotised on the first attempt. I haven't smoked for 4 months now and have been back for a top up session as I was thinking about it on a few occasions. I feel fitter, healthier, and have about £250 a month to use on something other than smoking cigarettes. Highly recommend if you're looking to give up and ask for Suzi, she's brilliant. Russ. Wallington.
---
Verified Client

Thank You SICH

  

Jennifer (Lopez)

 on November 02, 2017 at 13:17:38

I went to Paul White at SICH on 18 October to quit smoking. On 18 October I QUIT SMOKING. A hypnotherapy success story in three words. But there's more to it than that. I was advised by a friend with previous experience to seek help from SICH. This is why I ignored the pressure put on me to find a 'local' hypnotherapist in Dublin, pay Ryanair for the doubtful pleasure of getting myself across the Irish Sea and imposing on friends who not only putm up (and put up with me) for two nights but drive me right through London on a miserable morning to get me to SICH 50 minutes late. Paul W was unfazed by my wetly bedraggled, highly stressed state. He immediately put me at my ease (and my wet trainers on the radiator) and made me feel I'd arrived at the right place. I have nothing but the highest regard for SICH in general (easy, fast communication) and Paul W, in particular. Right now I am delighted to be in contact with him as a follow-up to my therapy. I feel I am in safe hands. Although I'm fully aware that I am responsible for myself, it's so good to know I can continue to ask Paul for help. Jennifer (Lopez)
---
Verified Client

It's worked for me and I've saved £7300.

  

Stephen Knowles

 on November 01, 2017 at 18:21:57

2 years 5 months (£7300 saved) smoke free. I'm back to see Paul to help me change my behaviour around eating. I would recommend Paul to anyone considering Hypnotherapy and have even paid for a family member to see Paul as a birthday present to stop smoking. It's a great gift because as she's now saving £3000 a year I won't need to get her a present this year!

The Surrey Institute of Clinical Hypnotherapy:

  Congratulations on the good work and thank you for your review.
---
Verified Client

Thank you again

  

Finn

 on August 30, 2017 at 19:55:53

I was a heavy smoker, now I'm not. Nor am I an evangelical ex smoker which makes it easier for everyone. Many, many thanks.

The Surrey Institute of Clinical Hypnotherapy:

  Thank you, Finn. Enjoy your life as a non-smoker.
---
It's changed my life!

  

Antonio Teixeira

 on July 04, 2016 at 10:51:17

Super happy with the result, it helped to change my aggressive behaviour when I was younger and also helped me to stop smoking! Thank you very much!
---