by Kath Howard
I was really heartened by the focus on hypnobirthing by the media lately. Firstly there was One Born Every Minute on Channel 4 on the 14th of February 2014, and then in the Daily Mail talking about the NHS using hypnotherapy in a trial to take the pain out of birth.
However, they both miss the point. The fact is that they are actually perpetuating the problem. In both of them, their main feature is PAIN. The Daily Mail article actually mentions the word pain 20 times (as I don't want to be part of the problem I won't mention it again).
The Channel 4 programme was full of women screaming in agony saying 'I can't do this!', whereas everyone watching was saying actually, you don't have a choice now! The lady doing hypnobirthing appeared to be let down by her Mum who stopped doing the hypnosis with her and reverted to a mum (natural enough) and just encouraged her.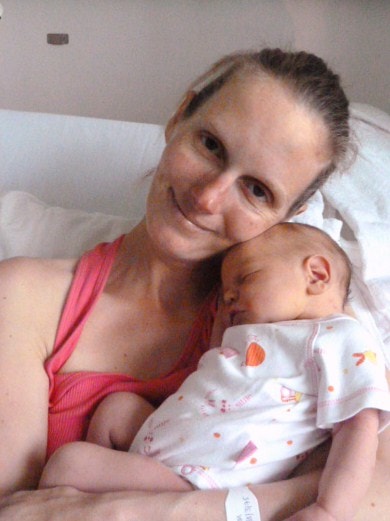 My experience was totally different. Fortunately for me, my husband runs The Surrey Institute of Clinical Hypnotherapy. However, he is not trained in hypnotic birthing so I had 4 sessions with one of his therapists, Michelle Seymour, who specialises in hypnotic birthing. During these sessions, I learnt what the process was about, how my body worked during the birth process, and how to relax throughout the labour. This was invaluable as I was completely relaxed about giving birth and I really got the sense that it was a natural process and that all I had to do was listen to my body and concentrate on staying relaxed.
My husband then arranged for Sophie Fletcher to run her course called Mindful Mamma's at the Surrey Institute. The problem was the only day she could do was actually on my due date so we were not sure if we would even be able to attend! Luckily I was a few days late so we managed without a hitch. This course was really useful to us as it not only gave us a good insight into the whole process, but it really gave us confidence that feeling very little discomfort was a real possibility, it just all made sense. She was not anti anything and we discussed all the options, the pros and the cons and all the research that was available.
We talked about our birthing plan, the role of adrenalin and oxytocin in the process and the roles that we both play in the process. To be honest it really helped my husband understand what his role was. It covered a lot of ground but to sum up I would say it gave me a big boost of confidence that I could have a natural birth. It was an anti-natal class on steroids focusing on how to be mindful of your body during childbirth.
So what we have to do is not teach mums-to-be about the p*** and how to control it but to give them the expectation that it might be uncomfortable and that they need to find ways of making it more comfortable.
Unfortunately for us it did not work the way we wanted it to. At 6 cm dilated they discovered that my little girl Lucy was breech and the hospital recommended an emergency caesarean. However, by the time I was in the operating room (15 minutes later) I was fully dilated and ready to go. Until I had the operation I can honestly say I used no pain control other than the hypnotic birthing my husband did with me and yes it did feel uncomfortable but it was completely different to feeling p***.
On the 4th of November 2010, I gave birth to little Lucy in just 4 hours of labour. She was very calm after the birth and has stayed that way and at the age of 15 weeks, she sleeps 7-10 hours every night. Calm babies and short labours are other benefits of hypnotic birthing according to the research. It certainly worked for me. So well done NHS for taking the P*** out of childbirth.