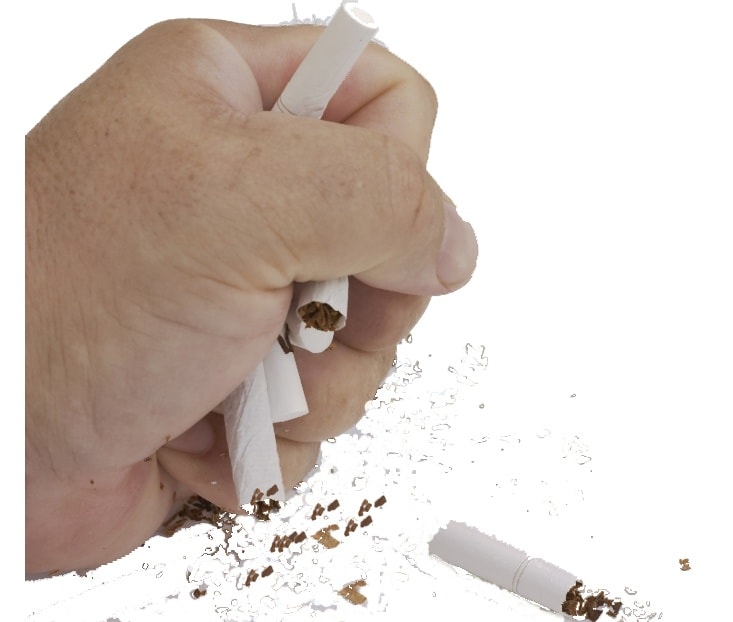 There is considerably more pressure on smokers to stop smoking, from the medical profession and the public. With many stop smoking projects running across the country and plenty of smoking cessation advice, it is now quite difficult to escape from it.
It is fairly well accepted that smoking does damage our health and the information is everywhere we look. A hypnotic approach is considered a real option as a treatment to stop smoking that can help a person make beneficial life changes.
When a person ultimately quits, the advantages to health are expansive. An experienced hypnotherapist can help a smoker to make this radical change in under two hours and when you take a look at the proof, we believe it is the most effective way of getting rid of this dangerous habit.
Our stop smoking programme looks to reprogramme your subconscious mind into believing you're a non-smoker, and helping to remove the cravings to smoke a cigarette. Our hypnotherapist will establish what your smoking triggers are as well as understand the desires that make you want to smoke.
This can help the hypnotherapist to build an in-depth analysis which can help to tailor the hypnotherapy session to your individual needs, ensuring it is more powerful.
Making use of hypnotherapy is the most productive way of getting rid of smoking cigarettes and this has been backed up by comprehensive research. The New Scientist has published particulars on the largest ever scientific comparison of ways of breaking the habit that support this theory.
It is obviously vital that you are looking to stop smoking, and have the self-control to become successful. Without it, the therapy may be ineffective. You should be aware by now of the potentially unhealthy effects of smoking and be deterred by images or thoughts of what life may be like in the future, if you continue to smoke cigarettes.
The more enthusiastic you are, the easier it will be for the hypnotherapist to help direct your subconscious mind onto a path of quitting smoking cigarettes.
When you stop smoking the advantages become apparent quite quickly, in fact you may start to notice changes in just a few days.
Your health could significantly improve, with an increase of fitness levels, and you won't actually feel as breathless as you might have done previously. Your blood pressure levels and pulse will return to normal and your lungs will begin to expel the harmful substances created through smoking.
Obviously, you will not merely be helping yourself, but those near you.
---
4.9 out of 5 stars (53 ratings)
---
Verified Client

A success and highly recommend

  

Russ

 on February 15, 2018 at 15:11:48

I visited the clinic for hypnotherapy to stop smoking. I saw Suzi Miller who I thought was absolutely fantastic. I was sceptical at first but her joyous manner relaxed me and I was hypnotised on the first attempt. I haven't smoked for 4 months now and have been back for a top up session as I was thinking about it on a few occasions. I feel fitter, healthier, and have about £250 a month to use on something other than smoking cigarettes. Highly recommend if you're looking to give up and ask for Suzi, she's brilliant. Russ. Wallington.
---
Verified Client

Thank You SICH

  

Jennifer (Lopez)

 on November 02, 2017 at 13:17:38

I went to Paul White at SICH on 18 October to quit smoking. On 18 October I QUIT SMOKING. A hypnotherapy success story in three words. But there's more to it than that. I was advised by a friend with previous experience to seek help from SICH. This is why I ignored the pressure put on me to find a 'local' hypnotherapist in Dublin, pay Ryanair for the doubtful pleasure of getting myself across the Irish Sea and imposing on friends who not only putm up (and put up with me) for two nights but drive me right through London on a miserable morning to get me to SICH 50 minutes late. Paul W was unfazed by my wetly bedraggled, highly stressed state. He immediately put me at my ease (and my wet trainers on the radiator) and made me feel I'd arrived at the right place. I have nothing but the highest regard for SICH in general (easy, fast communication) and Paul W, in particular. Right now I am delighted to be in contact with him as a follow-up to my therapy. I feel I am in safe hands. Although I'm fully aware that I am responsible for myself, it's so good to know I can continue to ask Paul for help. Jennifer (Lopez)
---
Verified Client

It's worked for me and I've saved £7300.

  

Stephen Knowles

 on November 01, 2017 at 18:21:57

2 years 5 months (£7300 saved) smoke free. I'm back to see Paul to help me change my behaviour around eating. I would recommend Paul to anyone considering Hypnotherapy and have even paid for a family member to see Paul as a birthday present to stop smoking. It's a great gift because as she's now saving £3000 a year I won't need to get her a present this year!

The Surrey Institute of Clinical Hypnotherapy:

  Congratulations on the good work and thank you for your review.
---
Verified Client

Thank you again

  

Finn

 on August 30, 2017 at 19:55:53

I was a heavy smoker, now I'm not. Nor am I an evangelical ex smoker which makes it easier for everyone. Many, many thanks.

The Surrey Institute of Clinical Hypnotherapy:

  Thank you, Finn. Enjoy your life as a non-smoker.
---
It's changed my life!

  

Antonio Teixeira

 on July 04, 2016 at 10:51:17

Super happy with the result, it helped to change my aggressive behaviour when I was younger and also helped me to stop smoking! Thank you very much!
---