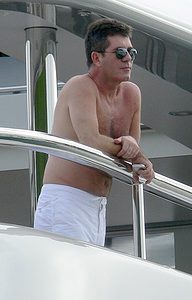 We always thought of Simon Cowell as one of the most determined men in the music industry. The pop media mogul's strict and determined attitude sometimes makes us a little scared that he's trying to conquer the world! However, there seems to be one habit the X Factor boss is finding a little hard to control, smoking.
Simon has reportedly started to undergo hypnosis to kick the habit, as it has been claimed that the star's friends and family want him to try and quit. The X Factor USA judge has been smoking for almost 44 years despite his family's history of health complications, and he admitted that his New Year's resolution was to try and give up his 15-a-day. A source says,
"His grandfather Robert was a heavy smoker who died of lung cancer…His father suffered a heart attack…It made Simon think long and hard about his own health now."
Simon is reportedly attending a top medical centre in London in an attempt to quit the habit. Well, it's a good time to start! We've still got to honour our resolution and shift all of this pesky Christmas weight, *sigh*.
Source: Heatworld.com