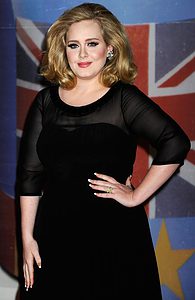 Adele is reported to be visiting a hypnotherapist to help her overcome her stage nerves.
The star has been having the treatment in LA in a bid to conquer her anxiety over her upcoming Oscars performance.
Adele is booked to perform her Bond theme Skyfall at the ceremony on February 24 – where it is up for Best Song – but is so scared about it that she's suffering from panic attacks and sleepless nights.
Pals say the nerves have got worse since she heard her idol BARBRA STREISAND will also be singing.
A source said: "A friend in LA recommended the hypnotherapist because Adele was getting so nervous about the gig.
"She has been rehearsing for the show with an orchestra, but all the preparation in the world isn't enough to keep her calm.
"She was so nervous before last year's Grammys that she was sick before going on stage. She doesn't want a repeat of that."
Source: The Sun