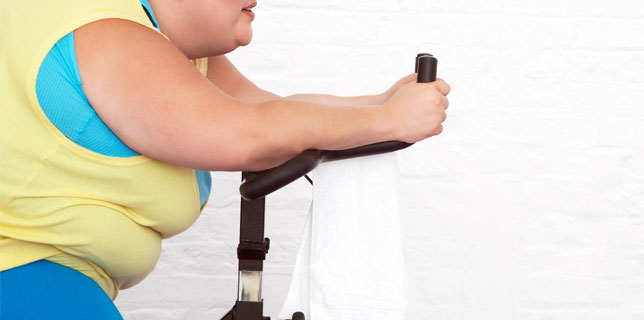 Physical activity has little role in tackling obesity – and instead, public health messages should squarely focus on unhealthy eating, doctors say.
In an editorial in the British Journal of Sports Medicine, three international experts said it was time to "bust the myth" about exercise.
They said, "While activity was a key part of staving off diseases such as diabetes, heart disease and dementia, its impact on obesity was minimal."
At the Surrey Institute of Clinical Hypnotherapy, they have been encouraging their clients to use their revolutionary 'Fridge Freezer Eating Plan' (FFEP) since 2013. The clients that have used the FFEP to lose weight rapidly, have said things like:
"What amazed me is that I didn't feel hungry at all, but I still lost 4 to 5lbs every week."
"It was easy to do because I didn't have to think about food."
"I found it really easy because I could eat what I wanted at the weekends."
The FFEP is supported by using hypnotherapy to make the behavioural change needed to allow this new style of eating to become permanent.
London Cardiologist, Dr Aseem Malhotra, blamed the food industry for encouraging the belief that exercise could counteract the impact of unhealthy eating.
Dr Aseem Malhotra, Cardiologist, said, "An obese person does not need to do one iota of exercise to lose weight, they just need to eat less."
The experts even likened their tactics as "chillingly similar" to those of Big Tobacco on smoking and said celebrity endorsements of sugary drinks and that the association of junk food and sport must end.
Public health messaging had, "unhelpfully" focused on maintaining a healthy weight through calorie counting when it was the source of calories that mattered most. Research has shown that diabetes increases 11-fold for every 150 additional sugar calories consumed, compared to fat calories.
And they pointed to evidence from the Lancet global burden of disease programme that shows unhealthy eating is linked to more ill health than physical activity, alcohol and smoking combined.
Dr Malhotra said: "An obese person does not need to do one iota of exercise to lose weight, they just need to eat less. My biggest concern is that the message that is being fed to the public suggests you can eat what you like as long as you exercise. That is unscientific and wrong. You cannot outrun a bad diet."
---

First, I want to inspire you about Amanda and how she worked through her anxiety and the things she learned that helped her.
Then, I would like to send you regular emails to help you to start taking control and give you a chance to think and feel differently about anxiety. I want you to know upfront that I will send you a few emails every week.
Complete this form and I will tell you about Amanda.
Anxiety Tips and Tricks Emails
Sign up and get FREE entry for our prize draw for 4 standard hypnotherapy sessions
---
Paul Howard, a weight specialist at the Surrey Institute, has been pioneering this new eating plan. Hear him explaining it on the Vanessa Feltz Show.
Paul Howard explains how, by eating the right foods at the right time, you can achieve safe, rapid weight loss and simply not feel hungry. The FFEP must only be done for short bursts of 6 to 8 weeks and is only adhered to for five days a week.The reason it can only be done for 6 to 8 weeks is that the weight loss is quite rapid and there is the risk of producing rolls of unwanted skin unless you give the skin time to catch up.
If you would like to find out more about our revolutionary weight loss programme click here.