by John Marks
It was reported today in The Sun that Kate Moss is the latest celebrity to turn to hypnotherapy.  She follows a long list of high profile stars to successfully kick the habit using, what research shows is the best way to stop smoking.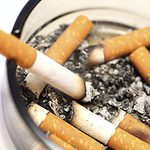 It was reported in an article "How one in five have given up smoking" – New Scientist vol 136 issue 1845; that research by Frank Schmidt and research student Chockalingam Viswesvaran of the University of Iowa carried out a meta-analysis, statistically combining the results of more than 600 studies covering almost 72,000 people from America, Scandinavia and elsewhere in Europe.  This massive study showed that "Hypnosis is the most effective way of giving up smoking, according to the largest ever scientific comparison of ways of breaking the habit. Willpower, it turns out, counts for very little." according to the New Scientist.
Hypnotherapists at The Surrey Institute of Clinical Hypnotherapy explained that although they have worked with quite a few celebrities, their beliefs and triggers are the same as everyone else.  It is no harder or easier for a celebrity to stop smoking.  In fact we have in the past worked with a reporter from The Sun to help her stop smoking using hypnotherapy.
All the articles on this site are subject to UK copyright law.  If you wish to use these articles in any other content you must respect this copyright and leave links back to this website intact.