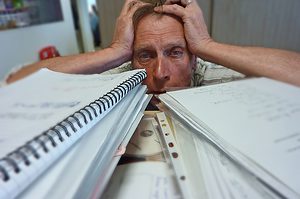 It does not matter where you stand on the corporate ladder, you can still be affected by workplace stress. In this short article, we'll look at what could help tackle business stress in the workplace.
Are you under pressure at work? You're not alone
It makes no difference if you are mopping the floor or the MD of a multinational, you can still be affected by workplace stress. According to one study (1), stress, depression and anxiety made up 39% of all workplace illnesses in 2013/2014.
Maybe you're in senior corporate management and you have found the recent strains and stresses of making redundancies or reaching targets has effected your ability to perform on a daily basis? Or perhaps you're an entry level worker struggling to cope with the countless layers of management passing down orders to you every single day, pushing you to improve when you really feel you simply cannot complete one task effectively, let alone several.
While employees would rarely admit to suffering from business stress for fear of being viewed as weak, the sad fact is that business stress underpins a large proportion of employee absenteeism. Co-workers may believe that a person who is absent because of "stress" is simply 'making it up', which can then make it significantly more difficult for the absent employee to return, building the stress and anxiousness and contributing to the actual problem.
Though it is the responsibility of the employer to successfully manage staff stress levels and do all they can to decrease them, it is also down to the staff member to seek help where applicable.
Business stress can cause a breakdown
In the business world, some workers will actually continue working until they quite literally have a breakdown and find themselves completely unable to function. In this circumstance they are unable to make decisions, anxiety can more often than not become a factor and even the slightest bit of additional stress can send them spiralling downwards. Their work then starts to suffer as they struggle to meet deadlines, and they simply don't perform at their best in high pressure circumstances, and as a result they and the business they are working for suffer.
The Surrey Institute of Clinical Hypnotherapy can really help with these sorts of problems. We use hypnotherapy to tackle the underlying thought processes, feelings and beliefs, which are generating or sustaining stress, as well as teaching coping methods to tackle any future stress more effectively.
More often than not, our ability to succumb to stress is due to a trauma or issue that is much deeper than just the environment we are currently working or living in.
We would normally search for any underlying problems and remove or alter the effect it is having on the worker's psychological mind, as well as teaching the worker how to relax properly. Not only does hypnotherapy processes remove the effects of stress in their working life, but also, in many cases, it has a powerful effect on the home life as well.
It is a win-win scenario for the employee and the company and if businesses invested more in their employee's mental health, we'd have far fewer sick days, which is great for our economy as well.
(1. http://www.hse.gov.uk/statistics/causdis/stress/index.htm )
Paul Howard from The Surrey Institute of Clinical Hypnotherapy, based in Wallington, Surrey, explained why, in their view, hypnotherapy is an extremely effective tool in dealing with workplace stress. "Business stress has been shown to be far less troublesome if your approach to it changes. Basically, if you start to see stressful situations as a challenge that you are more than capable of dealing with, the negative effects to health and well-being are significantly reduced, if not completely eradicated."